Occasionally important materials are made available to the Chicago Design Archive. These may take the form of presentations, video interviews, essays, or articles from publications. These resources, added to the existing collection of visual material, provide viewers, researchers, teachers, and students a greater understanding about Chicago design and designers.
We invite you to submit materials relating to Chicago design history for consideration. Permission, of course, must be provided by the original source.
Nearly half of the feature CA articles about Chicago designers in this section were generously provided by Patrick Coyne, editor of Communication Arts magazine. A recent contribution by Phil Hamilton added sixteen others. Wayne Stuetzer and Joseph Essex provided more. Six of the video interviews of Chicago Designers were conducted in 1991 by Robert Even at Northern Illinois University with a grant from the NEA. Others were conducted by George Thompson at Columbia College Chicago.
Recent additions to this section include feature articles from Print.com, contributed by Steven Heller and J.J. Sedelmaier. The Chicago Film Archives has generously provided links to their collection of films by Chicago designers. Paul Young, on behalf of Bauhaus Chicago Foundation, contributed the digital copy of Institute of Design...The Rocky Road.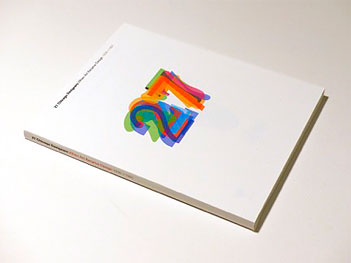 27 Chicago Designers: 
When Art Became Design 1936–1991
Designed by former 27 Chicago Designer Joseph Michael Essex and edited by former 27 Chicago Designer Jack Weiss, this book documents the work of the 125 cumulative members of the 27 Chicago Designers through its 55-year history. Published in conjunction with the exhibition, 27 Chicago Designers: Selling Design 1936–1991 co-curator Lara Allison said, "...without an understanding of 27 Designers, Chicago's design history cannot be fully comprehended."
$10.00 + $6.00 shipping = $16.00